Since 1975, O'Neal has been successfully delivering capital projects in the process chemical, food and beverage, automotive, biopharm, manufacturing, and pulp and paper markets worldwide. O'Neal is an integrated engineering and construction firm in The Business of Project Delivery – integrating overall project planning, design, procurement and construction to create cost-effective capital solutions. With all of our design and construction professionals in-house, our clients benefit from a true collaboration of disciplines.
In-House, Full-Service Project Delivery
O'Neal focuses on "The Business of Project Delivery," integrating project planning, design, procurement, and construction to create cost-effective capital solutions. With all design and construction professionals in-house, O'Neal clients benefit from integrated project services. O'Neal clients receive the additional benefits found through flexible delivery methods, cost competitive approaches and at-risk delivery.
O'Neal leverages design and construction expertise to develop project definition, scope, cost and schedule at the earliest phase of a project. Our proven process can identify and quantify clients' project needs quickly and accurately. This allows clients to develop or confirm funding for their project prior to full capital commitment—guaranteed.
Cost + Schedule Assurance
O'Neal's expertise and due diligence in the preconstruction phase allows us to be confident in our cost and schedule for total project delivery. Our "open book" approach provides overall transparency for our clients.
O'Neal has invested heavily in technology for the entire capital project life cycle.
In project assessment + planning – drone-based site surveys + laser scanning of existing assets
In design – integrated modeling platforms to accurately capture constructability, operability + maintainability
In construction, start-up + commissioning – full implementation of BIM to drive productivity, safety + quality
In facility operation – full turnover of electronic documentation of start-up, maintenance + operating documents that become the basis for equipment/systems operation
O'Neal began its journey into "The Business of Project Delivery" over 40 years ago. With its professional staff averaging over 20 years' experience, O'Neal has depth across all design and construction disciplines for the core industrial markets we serve.
Our People, Our Values, Our Culture
As an employee-owned company, O'Neal people have a long-term stake in client satisfaction. Clients experience a culture that is customer-oriented, accountable, and professional.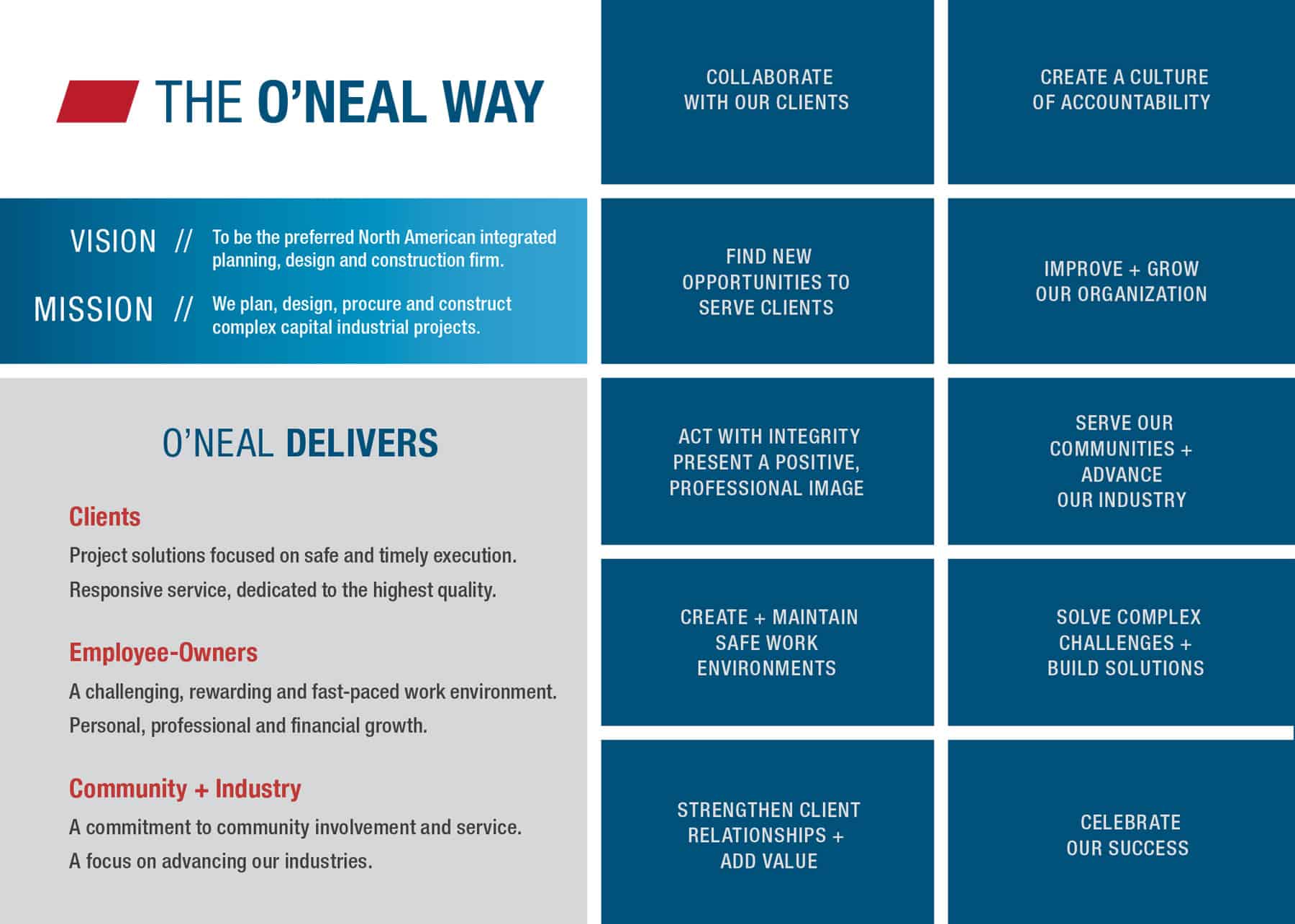 1600 Riveredge Parkway
Suite 925
Atlanta, GA 30328
404.230.9901
Company Headquarters
10 Falcon Crest Drive
Greenville, SC 29607 
864.298.2000
Kevin provides strategic and operational leadership for O'Neal. With over 30 years of engineering and construction experience, he brings an extensive knowledge of markets and works directly with clients to develop successful project delivery methods. Since being named President and CEO in 2005, he has led O'Neal's rise to a preferred EPC provider of complex industrial projects. An O'Neal board member, he earned a Bachelor of Science degree in Mechanical Engineering from the
University of Pittsburgh and is a registered professional engineer and licensed general contractor.
Kevin Bean, PE
President + CEO
Judy provides financial, risk and contract management oversight and serves on O'Neal's Board of Directors. She joined O'Neal in 2001 as Controller and became CFO in 2004. Prior to joining O'Neal, she was a partner in a large, regional accounting firm. She is active in leadership roles with the Construction Financial Management Association (CFMA) and other professional and charitable organizations. Judy holds a Bachelor of Science and Bachelor of Arts degree in Accounting from John Carroll University.
Judy Castleberry
Chief Financial Officer
Under Jeff's leadership, O'Neal's Process Chemical Strategic Business Unit has delivered EPC projects exceeding $150 million in contract value. In addition to 25 years operational and business development experience at O'Neal, he spent seven years as a project manager at Wellman. Jeff earned a Bachelor of Mechanical Engineering degree from the Georgia Institute of Technology.
Jeff Hall, PE
Vice President +
Chemical SBU Leader
Mac provides leadership for O'Neal's work in the industrial manufacturing and advanced facilities business units. He has over 35 years of experience in construction, industrial manufacturing, business development and project execution with BE&K, Suitt Construction and O'Neal. Mac earned a Bachelor of Science degree in Industrial Design from Appalachian State University.
Mac Carpenter
VP, Industrial Manufacturing + Advanced Facilities SBU Leader
David has more than 30 years' experience in biotechnology, pharmaceutical, medical device, food and chemical industry projects. He founded and led DME, a biopharm engineering firm until its acquisition by O'Neal in 2018. He now leads O'Neal's biopharm efforts for clients throughout the US. Dave earned a Bachelor of Science degree in Chemical Engineering from Lafayette College.
David Marks
Director, Biopharm Projects
Troy leads O'Neal's design efforts. He has over 27 years of engineering experience including operations and maintenance supervision in addition to having project, process, HVAC and packaging responsibilities. Troy has a Bachelor of Science degree in Mechanical Engineering from Clemson University.
Troy Callahan
Design Manager
Becky is responsible for all aspects of preconstruction and procurement efforts at O'Neal. She has over 30 years of experience in the engineering and construction industry including project management of EPC projects up to $150 million in contract value.  She earned a Bachelor of Science in Civil Engineering from Clemson University.
Becky Rollins
Preconstruction + Procurement Manager
Richard has over 25 years of experience in construction safety and public safety. He earned a Bachelor of Science in Occupational Safety & Health from Columbia Southern University and is a Certified Safety Professional (CSP).
Richard Sapp
Safety Director
As Recruiting Manager, Rob is responsible for attracting and retaining EPC professionals and support staff to successfully deliver capital projects. Rob has more than 20 years' experience with corporate recruiting, workforce planning, and training and development. He is a certified Management by Strengths instructor, member of the new shareholders nominating committee and a graduate of Clemson University.
Rob Evans
Recruiting Manager
Brandt Cook joined O'Neal in 2021 as Project Delivery Systems Manager. Brandt has over 16 years of experience in executing EPC projects in Life Sciences, Government, Advanced Mfg, Mining & Metals, and Biopharmaceutical projects. Brandt has a Bachelor of Arts degree in Political Science & Economics from Clemson University.
Brandt Cook
Project Delivery Systems Manager
Christine Hill
Accounting and Finance Director